Bulk quotation for purchase quantity for Customized blister cardboard packaging , OEM negotiable
| | |
| --- | --- |
| 1000- 1999 sets | $0.65 |
| 2000 - 49999 sets | $0.60 |
| >= 50000 sets | $0.55 |
Essential details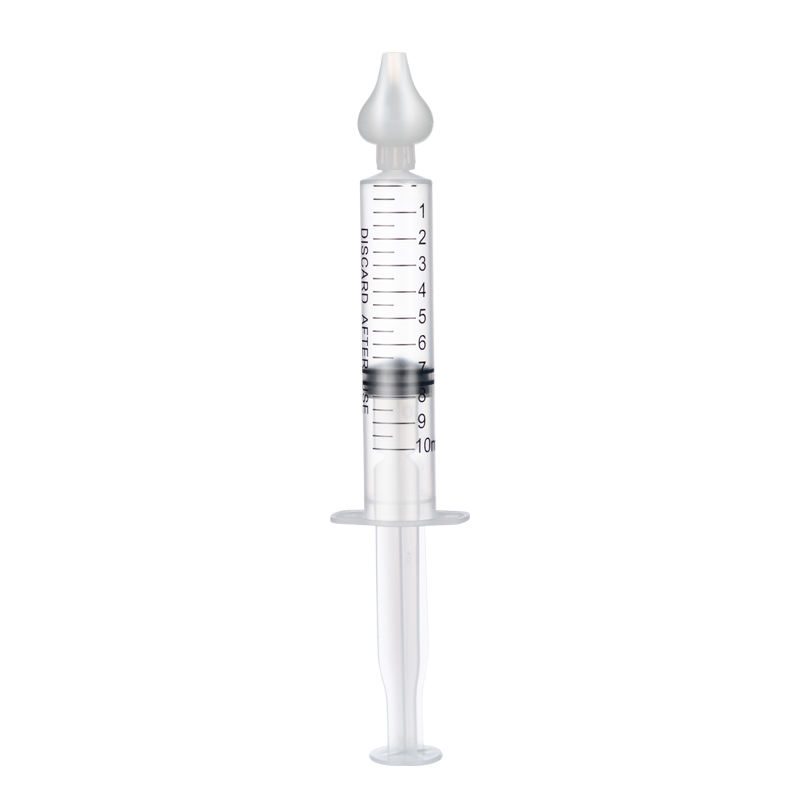 Baby has a stuffy nose and still doesn't know how to blow their own nose? Emilie Eyssartier, pediatrician surgeon for the Biloba application, gives us the steps to follow to wash Baby's nose with a syringe of physiological saline solution. SUMMARY When should you use a syringe to blow your baby's nose? How to wash a baby's nose with a syringe? Which syringe is suitable for blowing your baby's nose? When should you use a syringe to blow your baby's nose? There is no age limit to starting this practice. It is possible to use a syringe of saline solution even with a newborn, explains Emilie Eyssartier. The only thing you absolutely must ensure is not to apply too much pressure on the baby's nasal mucosa to avoid irritating or traumatizing it. How to wash a baby's nose with a syringe? To make this method as effective as possible and avoid having to repeat the process, our expert advises placing the child on their back or side and turning their head to the side while holding it steady with your hands. First, inject saline solution into one nostril. Then repeat the same process for the other nostril by turning the child's head in the opposite direction. In general, toddlers dislike having their noses cleaned, so it is important to be gentle and quick. When you inject the saline solution using the syringe, it should be done gently, against the wall of the baby's nostril, with a quick but controlled push. However, it is crucial to avoid using excessive pressure (similar to the famous high-pressure cleaner called Karcher). The advantage of the syringe is that you can control the pressure. Therefore, if you notice that your toddler is crying or experiencing pain, you may be applying too much pressure. In such cases, slow down or stop completely. Try again later when they are feeling better, this time applying less pressure. Once you have washed the baby's nose, it is possible for saline solution to come out from the other nostril, the mouth, or for the baby to swallow it. Rest assured that there is no risk, reassures the pediatrician. Simply clean any excess solution with a tissue. VIDEO OF THE DAY: Which syringe is suitable for blowing your baby's nose? The standard 10ml pharmacy syringes (equivalent to a serum pipette) are sufficient for washing a baby's nose. All brands of saline solution syringes are fairly similar according to our expert. Avoid purchasing oversized syringes (greater than 10ml) designed for adults, as their tips are too large and can irritate the baby's nostrils. A syringe between 5 and 10ml is perfect for washing an infant's nose.
Safe and Durable: This baby nose wash meets national health and safety inspection standards and CE, is made of environmentally friendly materials, and the suction nozzle is made of high-quality silicone, which is harmless to infants and will not cause allergic reactions.

6 colorful items: Different colors can stimulate babies' imagination, and 4 games with independent sucking heads can support long-term daily use at a high price.
Carefully clean the nose: Our baby nasal syringe is the ideal choice for cleaning the baby's nasal cavity, removing mucus, and bringing soft and fresh breathing.
Easy to use: After cleaning the baby's nose, clean the baby's nasal syringe with water, then boil in boiling water for 3 minutes and disinfect regularly.
If you have any questions, please feel free to contact us and our customer service is available 24 hours a day.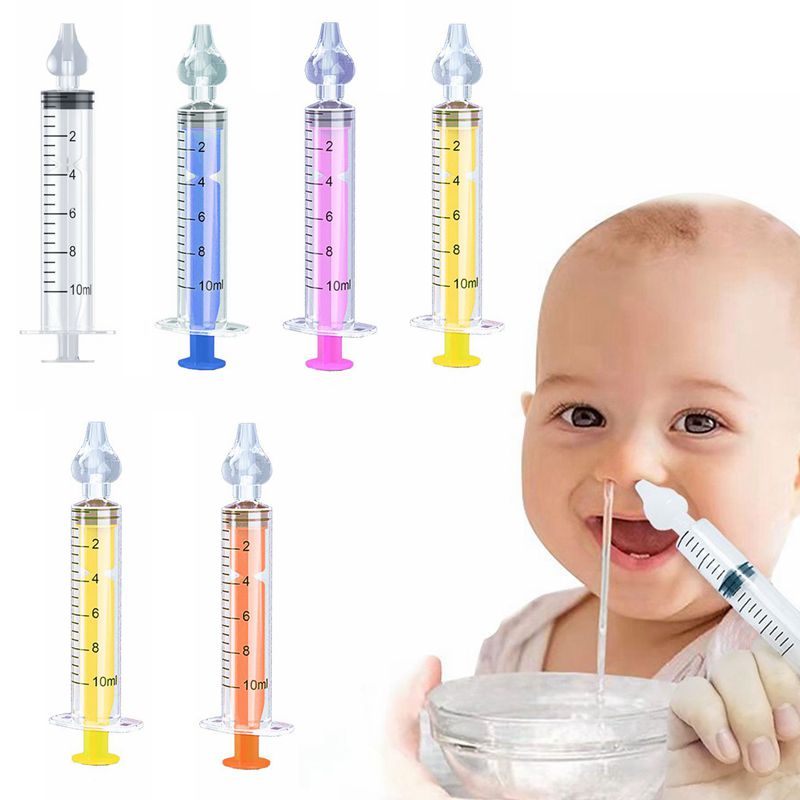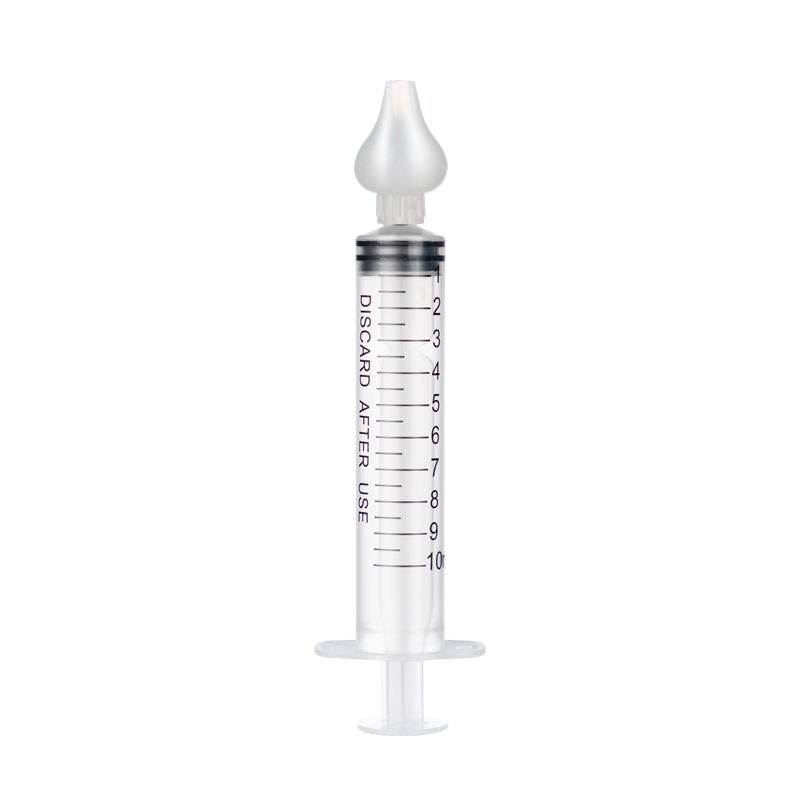 The following is a sample of our company's OEM production. AXA MED,Evolupharm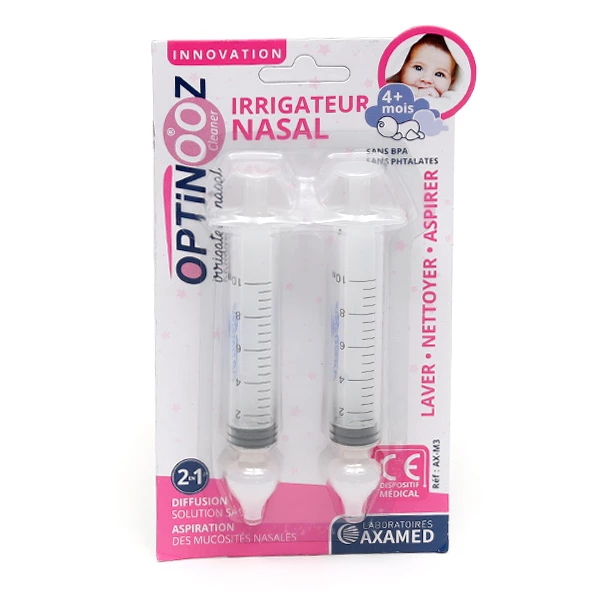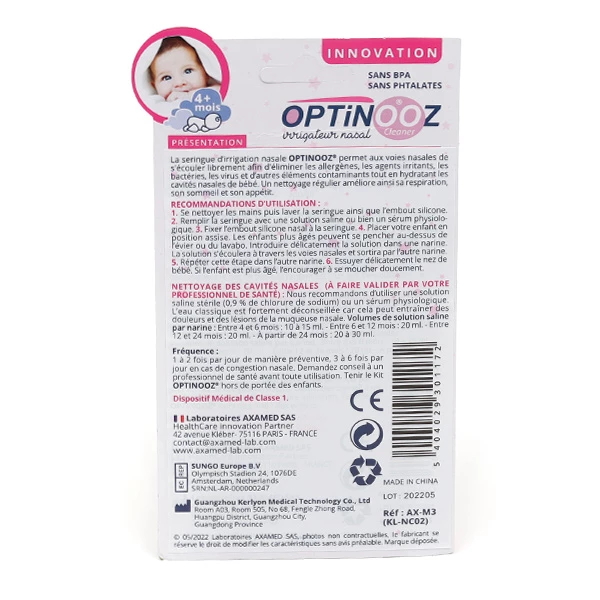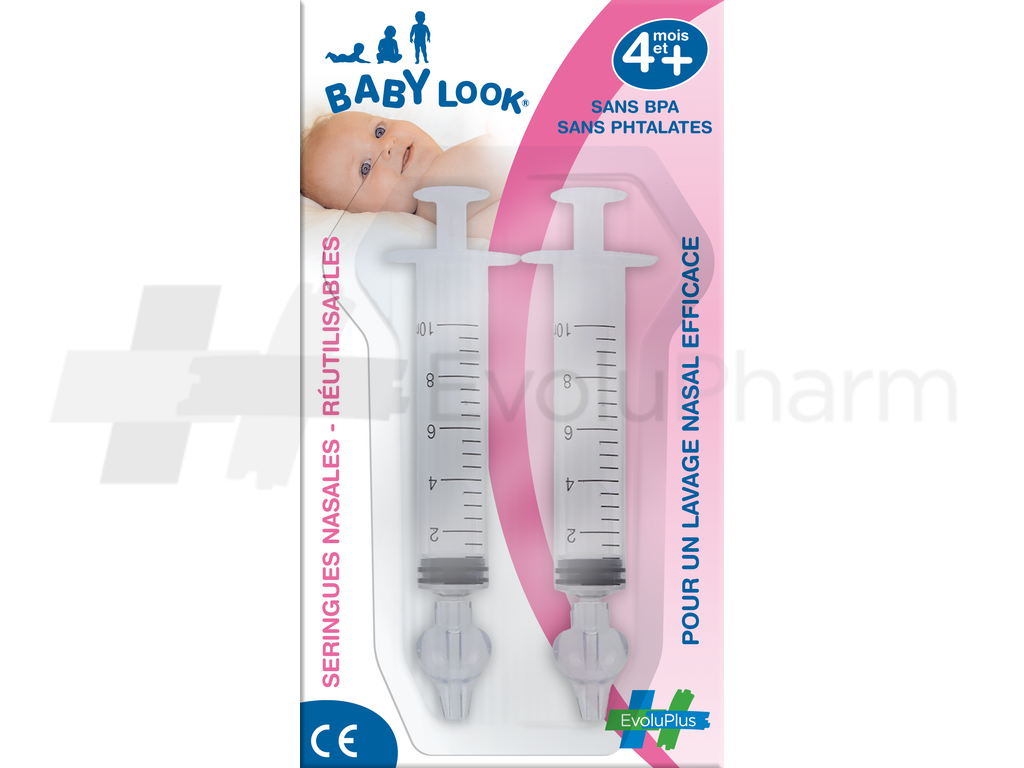 Packing:

Each product with the waterproofing film, packed in a carton box, or according to the customer's special request.
The syringe nose wash is an effective solution for cleaning a baby's nose. The syringe is used with physiological saline solution in a bottle or with a saline solution suitable for nasal hygiene. Nasal wash syringes offer a more effective, simpler, and convenient alternative to using single-use saline pipettes. The graduated syringes have a rounded and very soft silicone tip perfectly adapted to a baby's nose, allowing for very delicate nose washing. Thanks to the syringe, the physiological saline solution is expelled under pressure into the nasal cavity, thoroughly and effectively cleaning the baby's nose. Washing a baby's nose with a syringe filled with physiological saline solution or saline solution is also strongly recommended to relieve a baby with a cold. This promotes the thinning of nasal secretions, allowing for easier evacuation. Syringing a baby's nose helps reduce nasal congestion, making it easier to breathe for better days and nights. The child can then eat and drink without being bothered by a stuffy nose. It is possible to use this nasal syringe for nose washing from the age of 4 months. Usage tips: Wash hands well before use. Start by filling the syringe with saline or saline solution. To effectively blow your baby's nose, position them correctly. Before 6 months, choose the lying position with the head turned to the side. Gently insert the silicone tip at the entrance to the nostril and push the plunger of the syringe to inject the product into the upper nostril. Do the same for the second nostril, turning the baby's head to the other side. With this method, it is not necessary to close the child's mouth. When the baby is older, sit them on a stable surface with their back against you, leaning slightly forward. You can stand in front of a mirror to ensure you are in the right position. Place a towel to prevent the child from getting wet. You can then perform the nose wash by injecting the product into the nostrils. Use a tissue to wipe away nasal secretions that have passed and clean the syringe and tip after each use. If necessary, especially in the case of a blocked nose, it is possible to use multiple syringes for the same nostril to eliminate all accumulated secretions. In a baby with a cold and severe nasal congestion, you can wash the nose with a syringe up to 6 times a day, especially before meals and during sleep. In winter, a period particularly conducive to the spread of viruses, we recommend blowing your baby's nose 2 to 4 times a day. In summer, 1 to 2 nose washes are usually enough to maintain good nasal hygiene. Composition: BPA-free plastic syringe and silicone tip.
Usage tips
1. Open the package and remove the silicone syringe and nasal cleansing head.
2. Saline (called normal saline) is drawn into a syringe.
3. Hold the syringe in your hand and insert the tip of the nasal aspirator into the nasal cavity; Bend your head slightly forward, open your mouth and squeeze out the saline solution.
4. After rinsing, use a paper towel to dry off the liquid.
❤️ Specially adapted for the little ones, mouche-bébé has a round and ergonomic tip designed to clean their nose without risk of injury。
Material: Silicone Plastic
Capacity: 10ml
Color: Clear
Storage: store in a cool, dry and ventilated place
package including
1 box includes 2 syringes
Details & features
Baby nose pipette high quality silicone nasal aspirator tips and environmentally friendly injection syringes are used, BPA free, which are non-toxic and tasteless, absolutely safe for babies and safe to use by children .
The tip of the 10ml syringe is soft and flexible, which can protect the nostrils and is suitable for infants and young children.
The mouthpiece of the baby fly is detachable, very easy to clean, and can be reused after cleaning.
Use the nose cleaner to reduce your worries and the baby won't struggle and cry.
Compared with electric nasal aspirator, manual nasal sputum aspirator is lighter, smaller and easy to store and carry.
Conseils d'utilisation

1. Ouvrez l'emballage et retirez la seringue en silicone et la tête de nettoyage nasale.
2. Le sérum physiologique (appelé soluté physiologique ) est aspiré dans une seringue.
3. Tenez la seringue en main et insérez l'embout de l'aspirateur nasal dans la cavité nasale ; Penchez légèrement la tête en avant, ouvrez la bouche et pressez la solution saline.
4. Après le rinçage, utilisez une serviette en papier pour sécher le liquide.
❤️ Spécialement adapté pour les tout petits, mouché-bébé possède un embout rond et ergonomique conçu pour nettoyer leur nez sans risque de blessure。
Matériel: Silicone Plastique
Capacité : 10 ml
Couleur : transparent
Stockage: stocker dans un endroit frais, sec et ventilé
Paquet y compris
1 boîte comprend 2 seringues
Détails & caractéristiques
Pipette nez bébé des embouts d'aspiration nasale en silicone de haute qualité et des seringues d'injection écologiques sont utilisés, sans BPA, qui sont non toxiques et insipides, absolument sans danger pour les bébés et peuvent être utilisés en toute sécurité par les enfants.
L'embout de la seringue de 10 ml est doux et flexible, ce qui peut protéger les narines et convient aux nourrissons et aux jeunes enfants.
L'embout de la mouche bébé est détachable, très facile à nettoyer, et peut être réutilisé après nettoyage.
Utilisez le nettoyeur de nez pour réduire vos soucis et le bébé ne se débattra pas et ne pleurera pas.
Comparé à l'aspirateur nasal électrique, l'aspirateur manuel d'expectorations nasales est plus léger, plus petit et facile à ranger et à transporter.